Exporting Electronic Waste – The question is…. to where?
Exporting electronic waste (ewaste) has been going on for decades
The last few decades have seen a phenomenal increase in the development and use of electronic goods, of course with this comes an equally sensational increase in electronic waste (ewaste). The disposal of this ewaste has become a major global problem and it hasn't happened overnight. In the late 1980's the world was outraged to learn of 'toxic traders', organisations that were shipping hazardous waste to developing countries where recycling methods were unsafe and unregulated. It was off the back of this revelation that the Basel Convention (an international treaty designed to reduce the movements of hazardous waste) was drafted and adopted.
Ewaste export is in the limelight, yet still it continues
Despite over 150 countries ratifying the Basel Convention, exporting ewaste to unregulated recycling centres in developing countries is still a major issue worldwide.
Last year, the Basel Action Network and the Silicon Valley Toxics Coalition released the alarming report Exporting Harm: The Techno-Trashing of Asia. The report found that 50 to 80% of e-waste collected for recycling in the United States is exported to developing nations such as China, India and Pakistan, where the environment is being polluted and local men, women and children are being exposed to toxins.
Since Australia ratified the Basel Convention in 1992 hazardous wastes can only be exported with a permit, granted only where it can be shown that the wastes will be managed in an environmentally sound manner in the country of import. Under the Hazardous Waste Act, exporting hazardous waste without a permit is an offence, punishable with a fine of up to $1 million or imprisonment for up to five years.
It is reported that Australia has been exporting increasingly large amounts of ewaste to China, India and other Asian countries, it's estimated to be worth about $20 million a year. Unfortunately Australia has been in the spotlight more than once for not complying with the Basel Convention. The following closing remarks from a letter written by the BAN (Basel Action Network) in 2006 to Ian Campbell, the Australian minister for Environment and Heritage sums it up………
"We sincerely hope, consistent with the Hazardous Waste Management Act of Australia, which implements the Basel Convention, that the Minister will take the far wiser and legally correct approach to this crisis and will deny in this case, the export of hazardous waste for disposal and rather move to solve the problem at home."
Jim Puckett, Coordinator
Basel Action Network
Our approach to ewaste disposal
At 1800Ewaste we are passionate about diverting as much of Australia's electronic equipment from landfill and export as possible. We believe in prolonging the lifespan of valuable materials by recycling all that we can, currently 95-98%, by weight, of all the materials we collect are recycled. Our service is professional, fast and reliable, we'll come to you, collect your ewaste and deliver it to the appropriate recycling facility.
How to book in your ewaste for collection
If you're interested in having your ewaste collected and recycled please give us a call today on
1800Ewaste, 1800 392 783.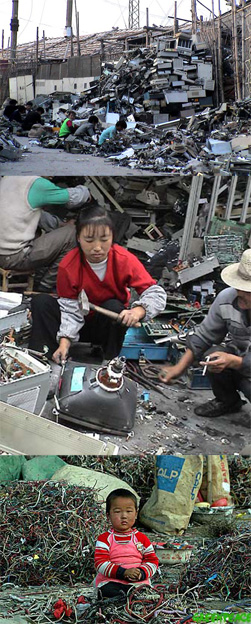 Free online estimate