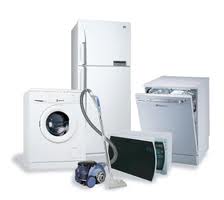 Upgrading your kitchen appliances is all part of today's technology based world. Why stick with a standard fridge when you can have a fridge that makes ice and pours cold water on demand? The problem arises, however, when it comes to disposing of your redundant white goods.
1.) Resell your dishwasher?
You may plan to resell your old appliance and, if you're lucky, get a bit of money back to go towards purchasing your new one. However, in today's tech-obsessed society, more and more people are choosing to invest in brand new kitchen appliances as they will often get more life out of them. It's also increasingly more common for new white goods to come with energy saving guarantee and, by choosing carefully, you can not only save yourself money, but you're also doing your bit to ease your carbon footprint. Trying to sell your old, money guzzling, energy draining dishwasher can now be nearly as hard as selling your obsolete, analogue TV.
2.) Reuse your fridge?
If your old appliance still works, many people can find it hard to let go. Old fridges are often kept and used purely for drinks or as an overflow fridge. Large families might need the extra space, but most of the time fridges are being kept unnecessarily, draining energy and wasting your hard earned cash – but at least it's not being dumped in landfill. Getting rid of your second fridge can save the average Australian household up to $210 a year.
Keeping old dishwashers and washing machines don't really have the same use as there's little need to do two washes at the same time. In reality, we usually end up hoarding our old kitchen appliances not knowing what to do with them and, unfortunately, they usually end up being taken to the tip and being dumped in landfill.
3.) Recycle your White Goods with 1800Ewaste
1800ewaste is Australia's leading ewaste collection and recycling service and we're passionate about diverting as much electronic equipment from landfill as possible. We believe in prolonging the lifespan of valuable materials by recycling all that we can. Currently 95-98%, by weight, of all the materials we collect is recycled for future use. Our service is professional, fast and reliable; we'll come to you, collect your Ewaste and deliver it to the appropriate recycling facility.
So if your garage is full of obsolete kitchen appliances waiting to be sold, reused or dumped, give 1800Ewaste a call today. We offer an affordable and convenient collection service for your white goods, as well as computer equipment and televisions.
Don't let your old fridge waste valuable space, money and energy –  call 1800 392 783 today.