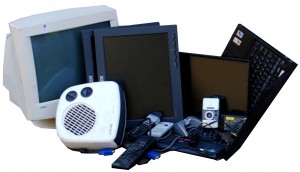 In our previous article on Fake Ewaste Recycling, we highlighted the issue of fake recycling companies illegally exporting electronic waste and the damage they were causing to public health and the environment.
It can be easy to shrug off the damage our Ewaste is doing overseas by claiming that it doesn't affect you, and possibly that we are helping their economy by providing employment for poverty stricken areas.  A report for PBS however, reveals that the downsides of illegal exporting is closer to home than we think. The report suggested that criminal organisations in Ghana "comb through" the electronic waste exported from the U.S and the U.K for harddrives, they are then able to retrieve personal data from their internal memories to steal your identity.
Exporting electronic waste leaves your personal information open to criminal minds.
So whilst you might think that China's ewaste isn't your problem, the issue of identity theft can easily come back to haunt you. Consider the online facilities that we use these days – online banking, internet shopping, tax returns, social networking – all of these are services involve us giving out our most personal information, all of which are stored somewhere on your computer hard drive. Ensuring that your data is destroyed is crucial in protecting yourself from fraud – merely deleting files from your computers is not enough. You need to make sure that your items will be physically destroyed in a safe and secure environment.
In order to avoid getting fooled by fraudulent recycling companies, we need to become more vigilant when it comes to disposing of our electronic waste. Whilst there has been few, if any, reported cases of fraudulent recycling companies within Australia, it's always important to be wary of where our electronic waste is going.
Free electronic waste collections? Who's really paying?
You might think that having your electronic waste collected free of charge is ideal but the Electronics Take Back Coalition warn that, if a recycling company is offering to collect or accept your ewaste for free, you can assume that it will be sent overseas. It's a common myth, especially with televisions, that the contents of your ewaste are valuable to the recycler; in reality, the cost of properly recycling an old analogue television far outweighs the value of the content inside. "Fake" recyclers, on the other hand, can get payed to export old televisions to countries such as China and India.  If you're not the one paying for your electronic waste collection, make sure you find out who is.
Refurbish, Resell or Recycle?
When looking for someone to collect your electronic waste, you'll probably come across companies that are looking to refurbish or resell your electronic waste. Whilst this is one way of postponing your electronic waste getting to landfill, there is no guarantee where it might ultimately end up. Allowing companies to refurbish and/or resell old hard drives and laptops will also still leave you open to the dangers of identity theft and fraud. Make sure that the recycling company you use are ISO14001 accredited and are planning on physically destroying your electronic waste.
1800Ewaste is Australia's leading ewaste collection and recycling service and we're passionate about diverting as much electronic equipment from landfill as possible. We believe in prolonging the lifespan of valuable materials by recycling all that we can. All of the electronic waste that we collect is recycled within Australia and we never send your electronic waste overseas in order to combat the illegal export of ewaste to Third World Countries. The cost of our service covers not just the collection of your electronic waste from your office or home, but also the cost of recycling too; it's a labour intensive process where all of your ewaste is broken down and stripped right down to its core components in safe and secure recycling facilities.
Currently 95-98%, by weight, of all the materials we collect is recycled for future use. Our service is professional, fast and reliable; we'll come to you, collect your Ewaste and deliver it to the appropriate recycling facility. 1800ewaste only recycles with ISO14001 accredited Australian recycling facilities. Call us today on 1800 392 783 for an obligation free quote and find out how we can help you recycle your electronic waste.
References
Following the Trail of Toxix Ewaste – 60 Minutes (CBS) – Nov. 9, 2008
Beware of Fake Electronics Recycling – Electronics Take Back Coalition
Ghana: Digital Dumping Ground – PBS – June 23, 2009