With Christmas on our doorstep and New Years just around the corner, it's time to start thinking about you New Years Resolution. Will you be joining the gym this January or giving up chocolate? Maybe you're going for something different and you've decided to take up a hobby, or just have a new attitude towards life. Whatever your personal aims for 2011, why not think about changing the way you dispose of your electronic waste?
Christmas is commonly a time when we, as consumers, go a little bit crazy. It's the most common time of year for buying electrical goods, as we buy our children that long awaited new PlayStation, or treat our other half to an updated iPhone. What happens though, to all of the obsolete electronics that we're replacing? They usually end up gathering dust in a drawer or in the garage and are forgotten about.
Start this New Year as you mean to go on – recycle your electronic waste.
Your council may offer yearly electronic waste collections, but what happens if you miss it or if you just want to get rid of it now? 1800Ewaste offer an electronic waste collection and recycling service for both residential and commercial customers; we aim to divert 95-98% of all of the ewaste we collect, by weight, from landfill by stripping electronic items right down to their core components. By extracting materials such as copper, aluminium and plastics from ewaste we are not only rescuing valuable renewable resources from ending up in landfill, but we are also preventing the hazardous waste that electronic goods contain from seeping into water and soil systems.
It's a common myth that recycling electronic waste can be profitable to company by reselling the extracted metals and plastics. In reality, however, the cost of properly recycling electronic waste actually far outweighs the value of the materials inside. For this reason we have a charge for our service which covers, not just the collection from your home or office, but also the cost of recycling your items too.
Spread the word – save yourself money by getting your community involved in ewaste recycling.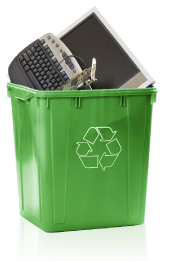 The festive period is all about getting together with loved ones, so we suggest getting together with friends, family and neighbours to organise a community ewaste collection. This can significantly bring down your costs, and also be a great way to unite the community in the New Year. All you have to do is call 1800 392 783 for a complete list of our prices and organise a collection time that suits you;  spread the word to your neighbours and friends and we're sure you'll be surprised by their eager response.
1800Ewaste – Australia's leading electronic waste company – helping Australia make greener resolutions for 2011.
At 1800Ewaste we are passionate about diverting as much electronic waste from landfill as possible, so we're encouraging you to spread the word about electronic waste recycling and make a New Years resolution that you'll want to keep.
Merry Christmas and Happy New Year from all at 1800Ewaste.