New computers, printers, servers, hard drives etc, the IT industry is booming, and as a direct result so is Australia's electronic waste (ewaste) pile.
The Total Environment Centre and Environment Victoria have prepared a detailed report on Australia's ewaste situation, it is appropriately titled "Tipping Point: Australia's E-waste Crisis. 2009, Update. It states…
There will be 234 million items of ewaste in or on their way to Australian landfill by the end of 2009. That's 41 million more items than was estimated would be the case in the 2008 version of the report.




Without the introduction of an e‐waste recycling program the amount of e‐waste in Australian landfills will treble by 2020 and be close to 700 million items.
E-waste deposited in landfill is a toxic time bomb. Components such as lead, mercury and cadmium are just a few of the hazardous materials that cause adverse affects on humans and the environment when left to leach into ground in landfill.
IT recycling ensures end-of-life technology can be broken down and reused as secondary raw materials.
If toxic materials in landfill aren't enough to convince you to recycle your used computers, printers, cameras, scanners etc then think about the world's finite raw materials used to make your new computers. By recycling used IT equipment you can extend the life span of these precious resources. E-waste recycling facilities are now able to convert 95-98% of electronic equipment they receive into secondary raw materials for future use. Extending the life span of primary raw materials is of vital importance as the world's supply is far from infinite, the table below illustrates that in some instances we have very little supply left.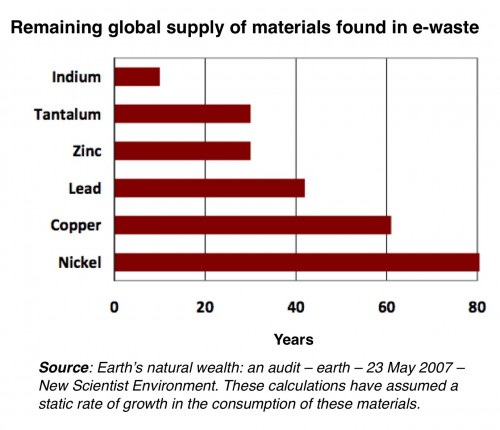 Correct IT disposal is key, 1800Ewaste specialises in collection and recycling of electronic waste ie. all IT recycling, used computers or simply end-of-lease, printer recycling and much more.
1800ewaste is Australia's leading ewaste collection and recycling service. We're passionate about diverting as much electronic equipment from landfill as possible. We believe in prolonging the lifespan of valuable materials by recycling all that we can. Currently 95-98%, by weight, of all the materials we collect are recycled for future use. Our service is professional, fast and reliable, we'll come to you, collect your ewaste and deliver it to the appropriate recycling facility.  1800ewaste only recycles with ISO14001 accredited Australian recycling facilities.
If you're interested in having your ewaste recycled please give us a call today
1800EWASTE, 1800 392 783