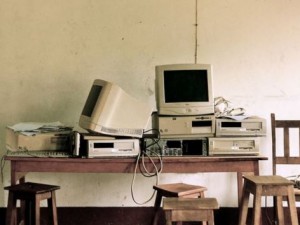 There are 20 to 50 million metric tons of ewaste from around the world that are disposed every year. Out of this number, only 12.5 percent is being recycled. This means that a huge percentage of ewaste ends up in landfills. Compared to general waste, the rate of ewaste being sent to landfill is said to be three times higher.
Ewaste at landfills tend to contaminate the soil and water with harmful toxic materials such as cadmium, mercury and lead. Apart from polluting landfills, ewaste also creates serious health implications to humans by way of chemical leaching into the water and agricultural produce.
Health Dangers of Ewaste
In west Africa, ewaste is found to be a major health hazard to children as young as five, ABC News reports. According to the report, children from Agbogbloshie dump in Accra, Ghana, known as the world's worst dump, tear the ewaste apart and burn circuit boards in open fires in order to collect melted precious metals.
Children who deal with ewaste suffer from certain health risks such as open sores and other skin diseases. They also experience heart problems and recurring headaches. If this continues, it is predicted that these children may not be able to reach their 20th birthday.
Illegal Exporting of Ewaste
Each month, more than 500 containers loaded with ewaste are brought to this place which are believed to have come from developed countries including Australia. Said to be one of the world's biggest consumers of electronics, Australia produces almost 600,000 tonnes of ewaste every year.
Mike Anane, an environmental reporter from Ghana, says that ewaste from Australia is ending up on African dumps due to a lack of regulatory oversight. There have been cases of ewaste dealers who are willing to pay as much as $500 for every 1,000 kilograms of broken PCs which may have been illegally exported.
Geordie Gill of 1800ewaste, a leading ewaste collection and recycling service in Australia, added that he usually gets emails from dealers who are interested to buy ewaste that are originally meant for recycling. He said that the majority of these emails are sent from Africa with offers reaching up to $20,000 for every ewaste container that the company can ship.
Ewaste Recycling
Open-air burning which allows the retrieval of gold and other valuable components leads to primary and secondary exposure to dangerously toxic materials such as lead. The combustion that results from burning ewaste produces particulate matter which can be a precursor to cardiovascular and pulmonary diseases. Other health problems that can develop from one's exposure to toxins include problems in the nervous system, developmental, reproductive and respiratory.
At 1800ewaste, 95-98 percent (by weight) of ewaste is recycled using accredited recycling facilities. The company makes sure that they only work with ewaste recyclers that have the standard certification of ISO14001 which is the worldwide regulation in terms of the safe practice of disposing electronic waste.
For a free and non-obligation quote, you can call 1800ewaste at 1800 392 783. You can also opt to use their online estimate service which is absolutely free.