First launched in August 2006 and now in its 9th edition, the Greenpeace 'Guide to Greener Electronics' ranks the leaders of the mobile phone, computer, TV and games console markets according to their policies and practices on toxic chemicals, recycling and energy.
The Greenpeace website states "The Greener Electronics Guide is our way of getting the electronics industry to take responsibility for the entire lifecycle of their products. We want them to face up to the problem of e-waste and take on the challenge of tackling climate change.
The Guide has been a key driving force in getting many companies to make significant improvements to their environmental policies, and it continues to provoke significant change in the industry.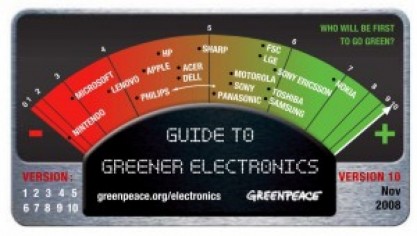 We want to see an end to the stories of unprotected child labourers scavenging mountains of cast-off gadgets created by society's gizmo-loving ways.
With more companies now scoring higher than 5 out of 10 – the halfway mark in the ranking – a company that rises to the challenge of phasing out toxic chemicals, increasing the recycling rate of e-waste, using recycled materials in new products and reducing its impact on climate change could soon find itself winning the race to produce the world's first truly green electronics."
There are many factors that influence our choices as consumers; appearance, price, performance, entertainment etc, to ensure our love for electrical gadgets is sustainable, we need to make 'green' a major factor in our decisions.
Recycling your electronic waste
At 1800Ewaste we collect and recycle all types of electronic waste, we're passionate about diverting as much electronic equipment from landfill as possible. We believe in prolonging the lifespan of valuable materials by recycling all that we can, currently 95-98%, by weight, of all the materials we collect are recycled for future use. Our service is professional, fast and reliable, we'll come to you, collect your ewaste and deliver it to the appropriate recycling facility.  1800ewaste only recycles with ISO14001 accredited Australian recycling facilities.
If you're interested in having your ewaste recycled please give us a call today
1800EWASTE, 1800 392 783