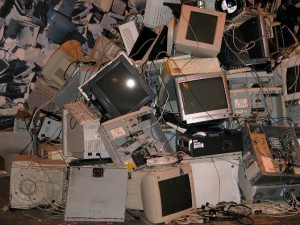 Ewaste refers to unwanted consumer electronic devices and equipment which are believed as not suitable for dumping in landfills because of the heavy metal that they contain. These can include stereos, computers, televisions, printers, VCRs, fax machines, mobile phones and electronic games. These electronics are said to contain copper, lead and other heavy metals that are potentially toxic and dangerous to the environment.
At present, ewaste is considered as the largest growing waste stream. While they can be hazardous not only to the environment but to humans and other living beings, ewaste also has materials that are still valuable and most of all renewable. With that being said, it is important to learn proper ewaste recycling both for the purpose of recovering valuable materials and for keeping the environment protected against the effects of toxic substances.
Ewaste Collection
If you're the type who likes to keep up with the latest trends in electronics, chances are you may find yourself spending on a new gadget or device on an average of 3 to 4 times a year. This means that these devices may easily pile up as you tend to focus on using your latest acquisition while you keep those that you no longer use.
So long as an electronic equipment is powered by an electrical source such as a power socket or a battery, it is deemed as ewaste after it is discarded. Other common types of ewaste that you may have been keeping in your household can include home appliances (vacuum cleaners, hi-fis, radios, fridges, electric fans, air conditioners, food processors and blenders, washing machines, electric kettles, rice cookers, toaster ovens, microwaves and DVDs); sports and leisure equipment, batteries, electronic and mechanical toys and lamps and lighting.
For an easier and hassle-free disposal of ewaste in your household and business office, you can call 1800ewaste (1800 392 783) and schedule a booking. You can get a free quote and choose the most convenient time for your ewaste collection.
Ewaste Recycling
Recycling ewaste is a highly encouraged solution to keep our environment free from harmful elements that come as a result of improper ewaste disposal. Proper recycling is also the best way to treat ewaste.
There are non-profit groups that work on refurbishing computers and make these items fit for selling at discounted prices to community groups and individuals who need them. When there are items that are deemed as irreparable, they are disposed of using other recycling facilities.
In a report by ABC, monitors and computers have made their way from one of these recycling facilities to an ewaste dump site in Ghana. Here, children were seen as using their own hands as they tear apart and burn ewaste on open fires, exposing themselves to toxic fumes and other dangerous elements.
How did these devices end up in Ghana?
Geordie Gill of 1800ewaste said that the company regularly gets emails from offshore with the majority of them coming from Africa. He revealed that the company has been "offered up to $20,000 per shipping container of ewaste." He added that given the fact there is an opportunity to sell ewaste to rogue dealers, it is highly likely that some Australian operators are into this kind of activity.