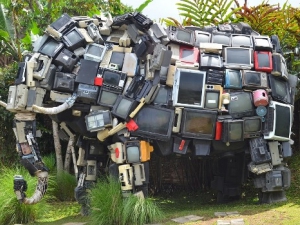 Televisions and microwave ovens are just some of the most common ewaste items that are not allowed to be disposed along with regular trash. Both are also bulky and tend to use up a lot of space when discarded and set aside in one's home.
Most people tend to bring out their old televisions and microwave ovens on the pavement with the hope that they get found and eventually picked up. However, this method of disposing and abandoning household appliances may break certain local rules and regulations that see it as an illegal activity.
If you're throwing away your old television and microwave oven and both are still in good working condition, you may opt to donate them instead to a school, a nonprofit organization or any other organization that accepts pre-loved household items.
Otherwise, broken or obsolete television and microwave ovens are no longer capable for re-use and therefore should be recycled.
Finding the right recycler
Before you decide to take your old television and microwave oven to a household appliance collection site or recycler, it may be wise to find out first about a few other things: the stuff that they recycle, the source of their electronics, the recycling charges on various items, availability of a pick-up and collection service and availability of a data destroying service.
Retail in-store collection
Several large electronics retail stores would sponsor the so-called "in-store" collection events which are usually held free. Some of these stores can include Office Depot, Staples and Best Buy. While these free events tend to occur sporadically, you can actually opt to just bring your old and unwanted television and microwaves and then drop them off right inside the store. There may be a charge for dropping off items in some stores while others may only accept particular types of equipment or brands.
Home appliance repair shops
You can also check if there is a local home appliance repair shop in your area and if they take broken television and microwave oven. Some of these repair shops are willing to take in broken appliances, repair them and then put them up for resell. If the items are incapable of repair, these shops will save usable parts out of broken television and microwave and recycle the rest.
How to have a quick and hassle-free disposal
For a worry-free disposal of your old television and microwave, simply call our office at 1800 392 783. Our friendly customer service will provide a free a non-obligation quote and you can arrange for the day and time of the disposal at your preferred schedule.
Our team at 1800ewaste accepts collection and disposal service of old and unwanted televisions and microwave ovens. Other appliances that are accepted include toaster ovens, fans, vacuum cleaners, space heaters, irons, hair dryers, blenders, typewriters, calculators, cords, chargers, cables and so much more.
After the collection, we would deliver the items to accredited recycling facilities where they will be recycled and prepared to be used again. At these facilities, up to 95 to 98 percent (by weight) of items are being recycled.