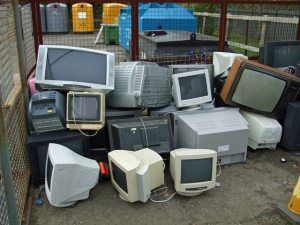 Recycling computer screens, both old boxy models and newer flat panel displays, is ideal because of their huge volume, hazardous components, and good resource recovery potential on resources that are non-renewable such as copper, zinc, nickel and tin.
In 2010, TFT (thin-film transistor) and LCD (liquid-crystal display) monitors as well as laptop screens have been reclassified as hazardous waste. They require careful treatment because of the toxic materials that they contain. These include lead (found in the leaded glass) and cadmium which are environmental contaminants and source of health risks among untrained personnel. Having said that, businesses and government offices have the responsibility to avoid health risks and pollution by way of ensuring proper disposal of all computer screens at a certified drop-off facility that comes equipped with electronics recycling.
Recycling Computer Screens
The following are just some of the computer screens that can be recycled.
1. LCDs
2. LEDs (light-emitting diode)
3. Plasmas
4. 20-inch CRTs
5. 21 to 25-inch CRTs (cathode ray tube)
6. 26-inch CRTs
7. broken CRT
8. bare tube
9. broken Plasma/LED/LCD
A Closer Look On Recycling
It is believed that almost 98 percent of an LCD screen can be recycled. LCDs are found to have industry standard materials such as mercury and arsenic which are responsible for its overall performance. In the manufacturing process, arsenic is usually added as a way to help in preventing the formation of defects in LCDs. The latter is also illuminated by fluorescent lamps which contain small amounts of mercury.
In the recycling process, all plastics are removed for the purpose of recycling and turning into new products. One of the items that can be recovered during recycling is the printed circuit board which are then smelted for the recovery of valuable metals. Likewise, the cabling system is stripped in order to reclaim metals such as copper.
Importance of Recycling
It is particularly important to recycle computer screens because of the harmful chemicals that they contain. Apart from cadmium and lead, computer screens are said to contain harmful element known as mercury and chromium. When disposed and brought to landfills, computer screens are crushed which then releases the harmful chemicals into the water and air. Such release has been linked to serious neuropsychological and respiratory disorders.
Tips in Recycling Computer Screens
One of the first things you need to do is to assess on the working condition of your computer screen. There are some local schools and charities that accept old computer screens as donated items.
You can also rely on certain computer makers such as Apple which normally accept old PC screens back if you are buying a new unit.
Look for certain manufacturers that are also members of the so-called "Electronic Takeback Programs."
Search for existing markets that accept recycled PCs both locally and abroad.
Gather information on companies and organizations that have a recycling facility for used PCs and screens.
Determine the costs involved in recycling PC screens.
If you are planning to throw away your old computer screen soon, you can call our office at 1800Ewaste (1800 392 783) and talk to our friendly customer service team. We have been in the ewaste collection and recycling industry for several years and take pride in our fast, reliable and professional service. Call us today and get a free and non-obligation quote.