Decades of toxic electronic waste (ewaste) dumped in landfill are showing alarming results.
It's estimated that the average Australian household utilises at least 22 different electronic appliances. The lifespan of these appliances is decreasing rapidly as our thirst to update or simply renew our gadgets appears insatiable. This appetite leaves behind a stream of ewaste that is accumulating three times faster than any other municipal waste stream.
Unfortunately for decades this toxic ewaste has filled our landfill sites, leaching dangerous metals such as lead, cadmium and mercury into the surrounding soil, groundwater and ultimately ending up in us. The health effects of such heavy metals in humans can be devastating, research shows tumours, mental health disorders and cancer are just some of the results.
A recent study by Queensland University's National Research Centre for Environmental Toxicology shows these chemicals are already everywhere in Australia's environments and people. Disturbingly, children under four years of age were showing the highest levels of blood contamination.
Dumping ewaste in landfill simply cannot continue, so what's the solution?
Recycling. Just like cans, bottles, papers and countless other commodities almost all electronic appliances can be recycled. More than that, many of the materials found in ewaste are far from the end of their usable lifespan. Recycling ewaste not only reduces the toxins going into landfill but also reduces the amount of raw materials we mine from the earth.
Sounds simple, but still millions of tonnes of ewaste ends up in landfill every year.
According to the Environment, Protection and Heritage Council (EPHC), Australians discarded 16.8 million electronic devices in 2007/8. Only 9 per cent was recycled while 88 per cent, or 14.7 million, was sent to landfill. The remainder was exported.
The first Federal Government meeting on Australia's ewaste disposal issue was back in 1997 – 98, despite numerous environmental groups, recyclers, councils and manufactures pushing for a national recycling scheme, there's still no solution 10 years later.
More recently we've seen individual groups take local matters into their own hands. For example, four Sydney councils have put a ban on ewaste going into landfill and at least three won't be collecting ewaste as part of roadside clean up programs from January 1, 2010. In doing so, they're hoping to force the federal government to implement a national recycling scheme.
Unfortunately the outlook still remains bleak, particularly as consumers take up digital television and radio in coming years. There are an estimated 40 million analogue radio receivers in Australia – all will be replaced when analogue transmission is eventually switched off.
How can you prevent your ewaste ending up in landfill?
At 1800Ewaste we are passionate about diverting as much electronic equipment from landfill and export as possible. We believe in prolonging the lifespan of valuable materials by recycling all that we can, currently 95-98%, by weight, of all the materials we collect are recycled. Our service is professional, fast and reliable, we'll come to you, collect your ewaste and deliver it to the appropriate recycling facility.
If you're interested in having your ewaste recycled please give us a call today on
1800Ewaste, 1800 392 783.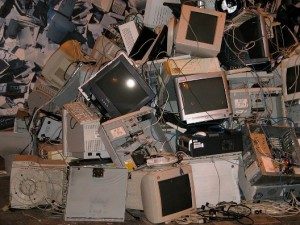 Free online estimate